Preventative Dentistry in Edmonton
While providing a cure for your teeth when problems occur is our specialty, promoting healthy dental care routines is our ultimate goal and responsibility at Ellerslie 66 Dental. Regular dental checkup, regular teeth cleaning by professionals (Registered Dental Hygienists and/or Dentists) and daily preventative measures, which could lead to healthier teeth and gums, are cheaper alternatives to other dental procedures. Most important, you will feel more confident about yourself.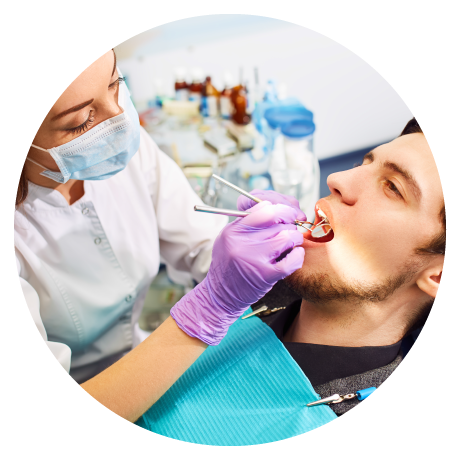 Regular Dental Checkup Examination
Dental checkups can spot the early signs of tooth decay or some other dental conditions. Usually these conditions can be dealt with before they become a serious health problem. If these issues are not treated they can develop into something more serious such as toothache, infection, loose teeth, and loss of teeth etc. Dental checkup examination is recommended at least once a year.

Digital X-rays
At Ellerslie 66 Dental, we have all our xrays digital. It is fast and convenient and less radiation to patients.

Teeth Cleaning
Teeth cleaning is a procedure performed by dental hygienists and/or dentists to remove plaque and tartar. Different instruments such as ultrasonic devices and hand scaling instruments are usually used for the purpose. Depending on patients' buildup level and clinic condition, patients are recommended to have their teeth cleaned every 3/4 months, 6 months or 1 year.

Proper Brushing
Proper brushing is critical in preventing gum disease and tooth decay. It removes the bulk of bacteria and plaque that are mainly responsible for cavities and gum disease. Ideally you should brush after each meal. At the bare minimum you should brush twice a day (morning and bedtime). Brushing can bring you a brighter smile and greater confidence.
When brushing we recommend:
Soft brush
Semi-circular motion
Avoiding abrasive movements and diversity the motion

Flossing
Plaque is the main cause of gum disease. Even with proper brushing techniques, a significant fraction of the tooth surface remains unreachable, resulting in the build-up of a bacterial film. After 24 hours, plaque hardens into 'calculus' and can only be removed through professional tooth cleaning.
Flossing is the most effective means to avoid the build-up of calculus (also know as tartar). We recommend flossing at least once a day to prevent plaque from forming tartar. It can also remove the food trapped between teeth and thereby preventing cavities and bad-breath.

Mouthwash
There different kinds of mouthwash on the market, find the one fits your need and use according to the instruction will benefit your oral health.