For many people the term "root canal" conjures up negative perceptions. Root canals have had a bad reputation in years past because they were thought to be painful or frightening. Modern root canal therapy is safe and effective, and most importantly root canal treatment brings relief from severe pain that many patients feel as a result of inflamed or infected teeth.
Our goal at Ellerslie 66 Dental Clinic is to help our Edmonton friends and family understand dental procedures and the positive outcomes of practicing good oral hygiene. We hope to dispel rumors about root canals and offer you insight into this effective treatment.
What is a root canal?
Root canals (also known as endodontic treatments) are dental procedures that are designed to remove bacteria from an infected root canal. Deep inside your tooth, below the hard outer layer, is a soft tissue called "pulp." Pulp contains nerves and blood vessels which nourish your tooth as you grow. When you reach adulthood and your teeth have fully developed, the roots of your teeth no longer need to rely on pulp and can survive without it.
When pulp becomes inflamed or infected, a root canal may be necessary to remove the pulp and any bacteria that are left behind. If left untreated the inflamed or infected pulp can lead to a tooth abscess, which in turn may lead to bone loss or total loss of the tooth itself.
When you might need a root canal
Root canal therapy can become necessary for a variety of reasons including traumatic events like a cracked or chipped tooth, as a result of genetics, or due to problems with a filling. Many patients first notice a problem when their teeth become sensitive to hot or cold, or daily activities such as chewing or brushing.
Other symptoms that may indicate a root canal is needed include:
Pain while chewing
Chipped or cracked teeth
Sensitivity to hot or cold foods and drinks
Tender gums
Visible tooth decay or discoloration of gums
These symptoms are not entirely unique to root canal problems, and may be a result of other dental issues. If you feel sudden or acute pain in your teeth, contact our emergency dentistry team right away by calling 780-705-9866.
Steps in the root canal procedure
If you're experiencing any of the symptoms of a root canal, your first step will be to reach out to a trusted Edmonton dental clinic for an examination. At your first appointment, a licensed dentist such as Dr. Yuping Li will conduct a thorough examination of the root canal.
If it is determined that a root canal is needed, you'll be scheduled for root canal therapy. Root canals are performed in several steps:
The patient is anesthetized to numb the affected area and provide comfort.
An opening in the tooth is made to remove the infected tissue.
The dental canal is thoroughly cleaned to remove bacteria.
The canal is filled and sealed to prevent future infection.
A crown may be placed to give the tooth a natural appearance. For root canals that need extensive repair, a small post may be inserted into the root to give support to the crown.
Each patient is unique and your goals will be discussed to find the right treatment and aftercare options for your comfort and safety.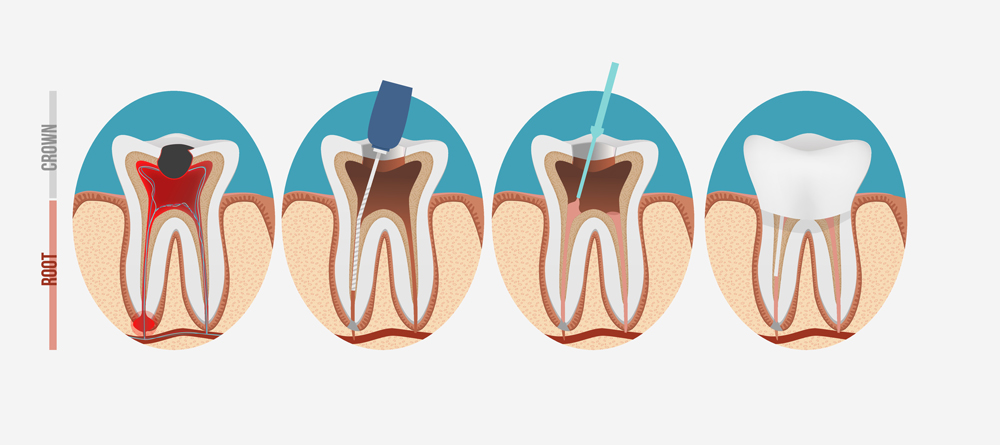 Who can perform a root canal?
Root canals are performed by general dentists, or in some cases referred to a specialist called an "endodontist." An endodontist is a dentist who specializes in diagnosing tooth pain and performing root canal treatments. At Ellerslie 66 Dental Clinic, Dr. Li performs endodontic treatments in house without the need to refer to a specialist.
Root canals can affect patients of all ages, so it is important to find a dentist who is qualified at treating children and adults. Dr. Li offers pediatric dentistry services and dental care for the whole family.
To book an examination with Dr. Li, please fill out this form or call us at 780-705-9866. You can see what our happy patients have to say about our services by reading our reviews.